Training Tips for Your First Gran Fondo
Here's our Training Tips to get ready for your first Piccolo, Medio or Gran Fondo bike ride
Gran Fondos have become a standard of cycling over the last 10 years with thousands of events worldwide. Gran Fondo loosely translates to "Big Ride", the phrase originates from Italy.
Part race, part personal challenge, they are a great way to test yourself and see what you can do on a bike.
Gran Fondos cater for cyclists of ALL abilities, with events ranging from 30 to 130 miles, there's something for everyone.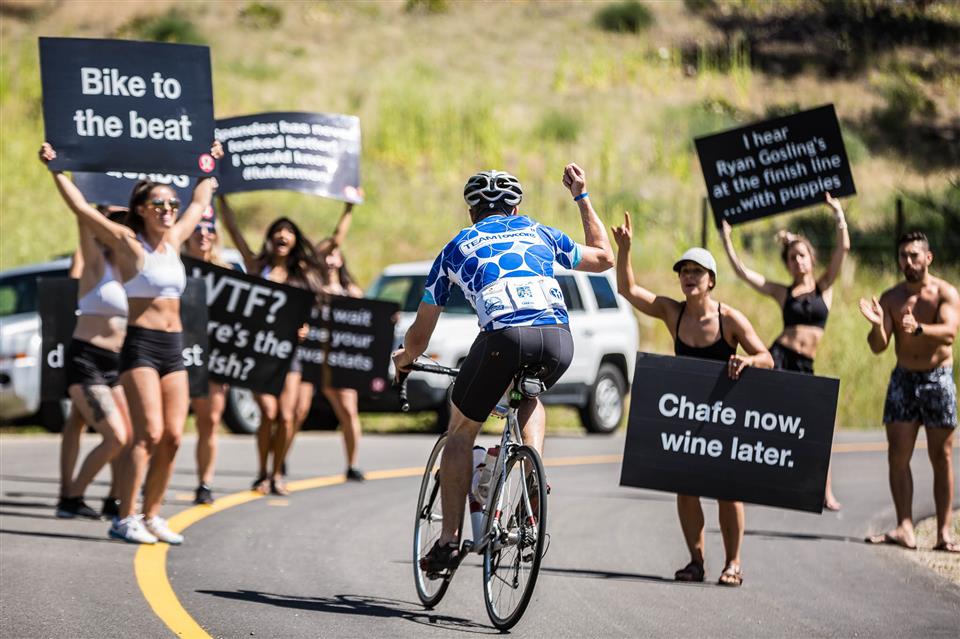 Typically a Gran Fondo will have three approximate distances of 30 miles (Piccolo Fondo), 60 miles (Medio Fondo ) and 100 miles (Gran Fondo). Gran Fondo Festivals typically have rides to cater for children and families over a weekend celebration of cycling.
If you're just looking for a huge day out on the bike, you'll definately get that! Many include anywhere from a few hundred feet of climbing to more than 10,000 feet of elevation gain or more. 6,000 or more feet of climbing in a timed 100-mile ride is a step up from your typical century ride, and that's what a Gran Fondo is supposed to be.
Nowadays, Gran Fondos are very friendly and encourage and motivate beginners and families to take part too.
Events usually cater for a competitive element in a few ways using electronic timing. A sensor is tied to your bike or it's embeded in a number plate that is tied to your bike that also doubles to help identify photos of your ride on the day.
More and more events allow you to set your best time on several segments of the ride, giving you another way to compete or compare this year's performance to your previous times with a full range of age categories for both men and women with prizes, awards, medals and even cash prizes!
This format is becoming more popular as the risk of a bunch crash in an "all out road-race" is removed, plus you can enjoy a scenic and challenging course at a less serious pace in between the timed segments.
More competitive events, use your time over the whole course and/or a combination of timed segments too with ranking, awards and prizes. So you don't have to be Lance Armstrong to win cash and prizes!
Gran Fondos aren't just cycling events, many are Festivals featuring world-class food and wine made locally with a bike expo and much more. Families come from far and wide to take part and celebrate a full weekend of cycling with a range of activities.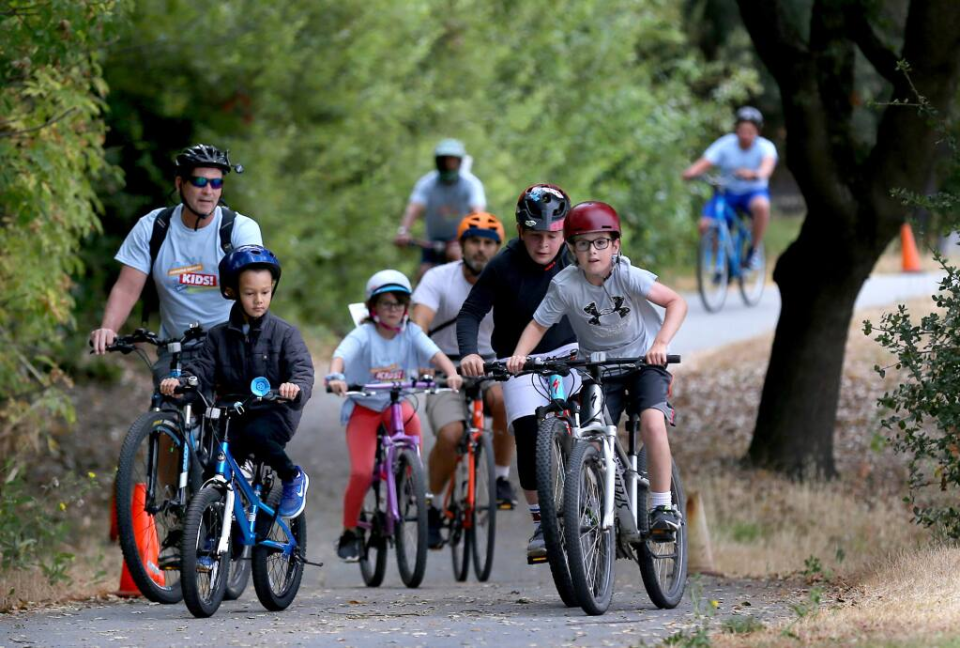 It may not be a "race", but you still want to do your best on the day, so use these tips to make the most of your training and preparation.
1. Endurance
If your new to cycling, Gran Fondos are one of the best ways to help you progress, and you don't need a full carbon racing bike to start with, any good road bicycle will do.
You can start with a shorter Piccolo (30 miles) ride. Once you are able to ride the Piccolo comfortably, you can progress onto the Medio (60 miles) ride. Again, once you can comfortably ride a Medio Fondo, you can progress and ride a Gran Fondo (100 miles).
Sometimes Gran Fondo riders switch to the shorter Medio ride if they don't feel good on the day, or if its especially hilly or the weather deteriorates.
Most events allow you to switch distances in advance or on the day using your electronic timing chip.
2. Nutrition
This becomes more important as you progress and start tackling longer rides. Basically, after around 2 hours of riding your body uses up the glycogen stored in your muscles and liver.
You'll need to replace this using a combination food and drink to avoid "the bonk". This is when you run out of energy, slow down and start to struggle. This is your body telling you to replenish your energy stores.
Gran Fondos have several aid stations with lots of local delicacies to keep you going, including specialist sports drinks, energy bars and gels.
3. Climbing Intervals
With a timing chip, climbing segments, and an overall ranking after crossing the finish line, you're going to need some speed to go along with all that endurance.
A lot of events provide timing on a number of timed seqments on the course, many of them are on the most challenging climbs or technical sections.
In training, focus on repeated climbing intervals of 10-20 minutes each at your lactate threshold or maximum sustainable power output. The goal is to accumulate time-at-intensity, so only make the intervals longer if you can maintain the power output.
Recovery between intervals should be half the duration of the interval, for example 5 minutes recovery between 10 minutes intervals). Repeat until you can't continue to output the power or cadence properly.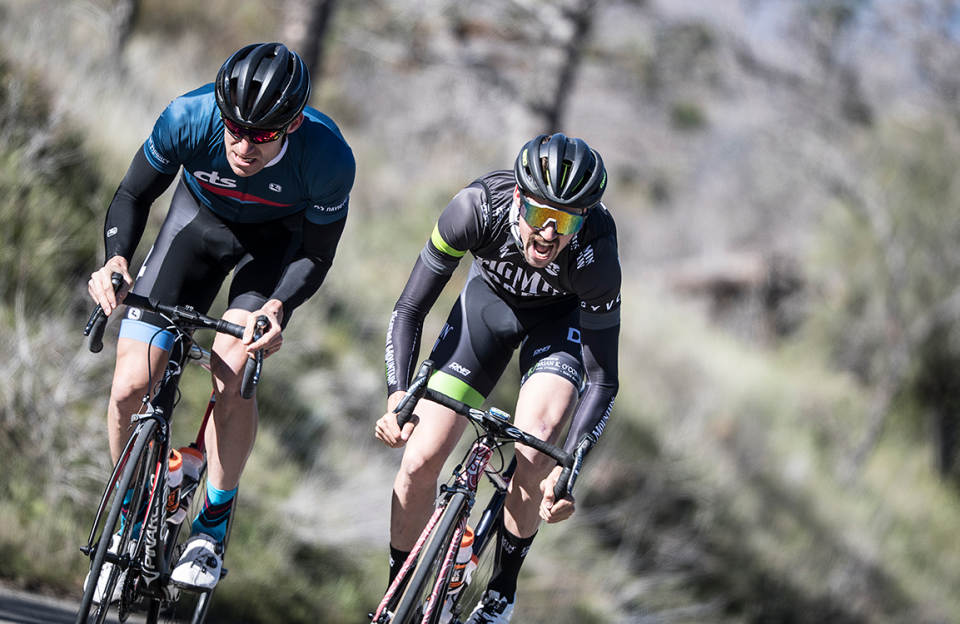 4. Power Intervals
Riding in a group allows you to share the pace, averaging a greater speed. A rider on the front a group has to generate 30% more power than the riders behind.
There's no denying that most every cyclist who trains with power wants to produce big power numbers. However, there's a reason that athletes should spend time above their threshold. While endurance rides are important, an athlete's body is made of complex systems that deliver energy differently to different types of muscle.
These intervals allow you to build leg strength, speed, and the power necessary for everything from climbing to your Saturday morning group ride. Every cyclist is different when it comes to the execution of these workouts, so you'll have to see where your strengths and weaknesses lie and then fine-tune these intervals. Typically incorporating this type of work into your training 1-2 times per week is all that's needed to see gains and prevent burn out or injury.
5. Short Intervals
While longer climbing intervals are great for building the power to climb, you also need to be able change pace and accelerate, this becomes more important when you want to be able to stay in a group over a longer course.
If you develop the power to surge way above your lactate threshold for a short effort, you're also developing the fitness to recover quickly from those surges. Try a workout like 10 x 2 minute Power Intervals (10 on a 1-10 scale, as high a power as you can hold for two minutes) with 2 minutes easy spinning recovery between them. You'll improve power at VO2 max, but more importantly, you'll gain the ability to surge on a climb or bridge across a gap and then recover quickly enough to hold your position.
6. Back-to-Back Rides
A large Gran Fondo is likely to be your main goal and longest ride of the year.
With busy lives many riders find they can't replicate their main event's mileage, time in the saddle in a single training ride. That's normal, but one way to compensate for limited training time is to build back-to-back training blocks.
If you can't ride six hours in one day, schedule two back-to-back days at 3-4 hours with two full days of recovery or light spinning.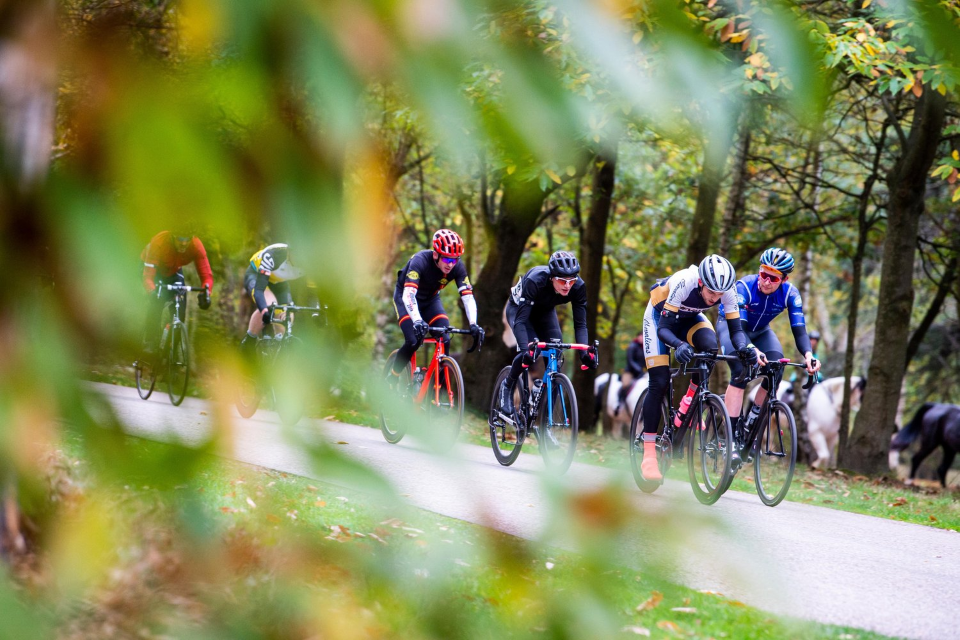 Race Day Tips
1. Preparation
Spend some time getting to know the course, where the climbs or timed segments are and where the feed stations are.
Do you need to carry special nutrition like energy gels, bars or sports drinks? What is available at the feed stations.
Have this ready for race day including all your kit, with clothing for all weathers, essential if you are riding in the mountains.
Carry back up spares like a pump, patches, chain tool and spare tubes. Many events have moto and mechanical support, but you want to be as self suffiicient as possible so if you do need to stop, you can get going quickly again.
2. Rest Up
In the days leading up to the event, have confidence in your training and avoid the temptation to squeeze in "one last training session". Rest up knowing you have trained hard and are ready.
3. Don't Start Too Fast
Many Gran Fondo's especially in Italy, there is a lot of pressure to go all out at the start to get in a fast and experienced group. Be careful not to go too mad and burn too many matches before the real race even starts.
4. Keep Your Eyes on the Rider in Front
Gran Fondos cater for riders of all abilities and they aren't categorized like your local bike race. Assume the rider in front of you is less experienced and even less pack savvy than you.
5. Ride Steady
Riding 100 miles with 10,000 feet of climbing requires you to know your limits, it's not the first 2,000 feet of climbing that will get you, it's the last 2,000.
Over a longer ride, you'll get slower as your sustainable climbing power declines, don't charge up the early climbs, to crawl up the final one. Be patient in the early climbs– even if it feels like you're going slower than you could be.
After the nervous start and some challenging climbs, take some time to suck up the scenery, enjoy some group riding and the many great feed stations along the way.
You'll be rewarded with good climbing legs near the end and ride better over the whole course.
Have Fun!
Gran Fondos are big rides and Big Fun.
If you are looking to challenge yourself on your bike, a Gran Fondo is a must!
A Gran Fondo can be as much of a race as you want it to be, these events serve as a great goal for all levels of cyclists.